---
Daily Online videos will be made available right here each day at 7am during the week of 7/13.
---
Climb aboard for mountains of fun at Rocky Railway!
We may not be able to have Kids Camp on our Shiloh church campus this summer, BUT we are moving full steam ahead to help you have a fun filled adventure at home with your family!
Rocky Railway is an at-home kids camp for kids aged 4 - 11. We'll supply you with everything you need for hours of fun every weekday, July 13th-17th! Sign up to get access to Daily Online Experiences and to get your FREE Camper Resource Kit with all the essential items for an amazing camp right at home!

Each Resource Kit includes all camp materials for one child. If you have multiple children you'll get one kit for each child.
Daily Online Experiences will feature:
Rocky Railway Music Videos
Skits
Bible Adventures
Imagination Station
Kid Vid Cinema
And more!
Camper Resource Kits include:
Imagination Station Gizmos
God Sighting bracelets
Rocky Railway Bible Books
Bible Buddies with carabiner
Rocky Railway T-Shirt
Elementary Kits are recommended for ages 6-11 (Grades 1-6)
Preschool Kits are recommended for ages 4-5 (Preschool & K)
*The only differences are age appropriate daily Bible books & papers and the Preschool kit has additional preschool crafts.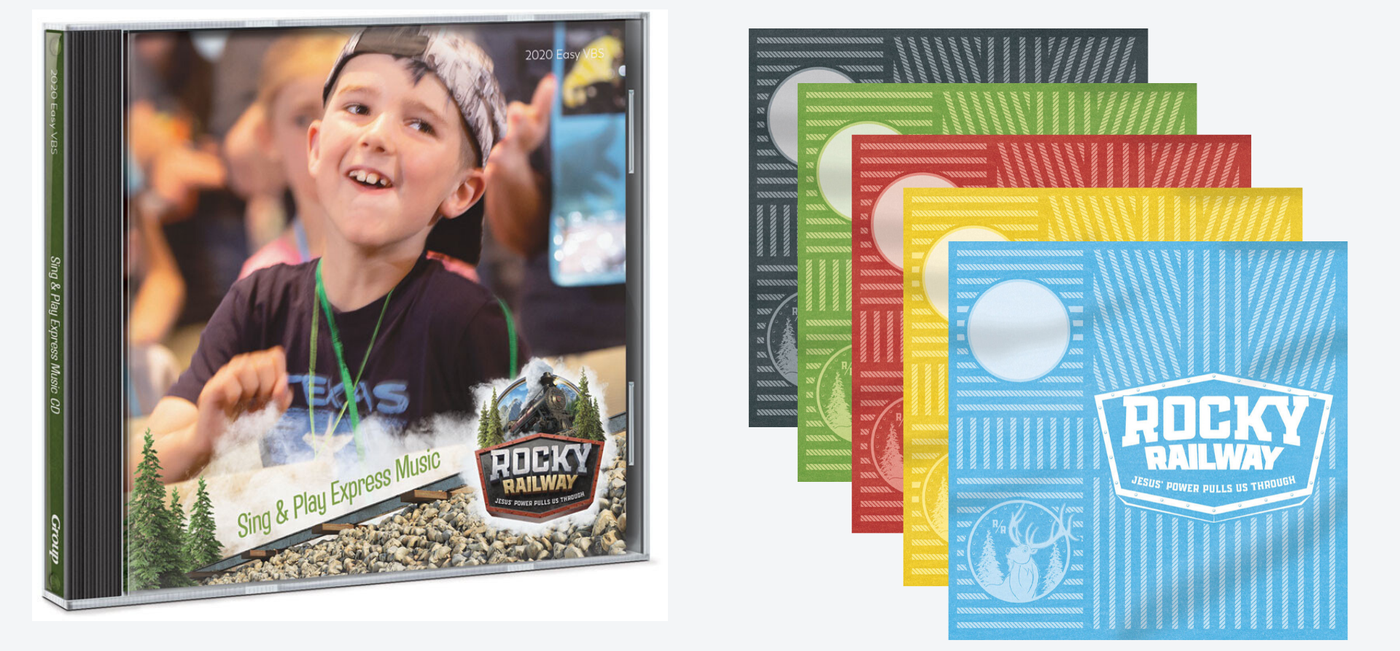 Free Rocky Railway T-Shirt in every kit!
FAQs
What are the Daily Online Experiences?
The Daily Online Experiences will be online video content including Music Videos, Skits, Bible Adventures, Imagination Station, Kid Vid Cinema, activity instructions, and more! Think of it as all the fun stuff we would do at Kids Camp coming to your home! Between the video content and the activities included in the Resource Kit, each daily program will be over an hour of fun.
Daily Online Experiences will be delivered to your email and made available online each day during the week of July 13th.
What's in the Camper Resource Kit?
Camper Resource Kits include all camp materials for one child. That includes Imagination Station Gizmos, God Sighting bracelets, Rocky Railway Bible Books, Bible Buddies with carabiner, one Rocky Railway t-shirt, and access to the Daily Online Experiences.
What if I have more than one child?
Register both your children and you'll get a Resources Kit for each child. They'll each have their own activity materials and their own t-shirts.
What's the difference between the two Resources Kits? I have children in Preschool and Elementary.
Each kit has age appropriate daily Bible books and papers and the Preschool kit has additional crafts. Our age and grade recommendations are just that: recommendations. You can choose whichever kit you feel is appropriate for your child or children.
Can I still purchase music CDs and Banduras?
Yes! Registration is free, but you may purchase CDs or Banduras online and we can ship them to you or you can pick them up on a Sunday between 8:30a & 11:30a.
When and where do I pick up our Resource Kits?
If you've registered for one or more Resource Kits, they were available for pickup Saturday, July 11th or Sunday, July 12th between 9am to 12pm at Shiloh Community Church in Manchester. (55 Edmond St. 03102)
If you missed this window, please use the contact form below and we'll see if we can still get them to you. As stated previously, we can't guarantee a kit for anyone who missed the pickup days.
Is there a deadline for registration?
Yes, the deadline was July 6th, 11:59pm. If you find yourself having missed the bus reach out via the form below. We can't guarantee we'll have an extra kit for you, but we'll see what we can do.
Can I use the videos/activities during a different week?
Sure! Dates for registration deadline and kit pickup remain the same but the online content will remain accessible after the week of July 13th for you to use or reuse.

Still have questions?